Implant Dentistry
Implants in just ONE DAY!
Missing a tooth or several teeth? Dr. Kumar's extensive training in implantology can help restore your oral health, as well as improve the appearance and function of your teeth. We work closely with our patients to customize solutions that meet your individual needs. With these advanced dentistry techniques, we'll having speaking, chewing and smiling with confidence.
Implant Placement
Dental technologies have advanced rapidly over the past several years, particularly in restorative care. Patients with missing teeth have traditionally been treated with dentures or bridges that require daily maintenance. Dental implants offer patients a permanent solution with results that look and feel natural.
Dr. Kumar has received extensive training in dental implantology. During the procedure, a small titanium post is surgically inserted into the jawbone, where it serves as the "root" of the missing tooth. A temporary crown is placed over the implant area and once the post fuses with the bone, usually within 3 to 6 months, a custom-designed crown is placed on the implant. Dental implants are designed to mimic your natural tooth and root and do not require any special care beyond your daily routine of flossing and brushing.
Implant Supported Bridge
Dental implants offer a permanent solution for missing teeth. The implants look and feel like your natural teeth and can be used for anchored dental procedures, such as an implant-supported bridge. The implant, composed of a small titanium post, will be surgically placed in the area of the missing tooth. Once this fuses with your jawbone, Dr. Kumar will place a custom-made, permanent crown on the post. The implant will then serve as support for your bridge.
Implant Supported Denture
Patients who have dentures sometimes find that denture adhesives are unreliable and messy. Wickham Dental Care offers implant-supported dentures, also known as anchored dentures, to provide a more stable support for your dentures. This procedure eliminates problems such as shifting and will provide you with a more comfortable fit; enhancing your ability to chew and speak.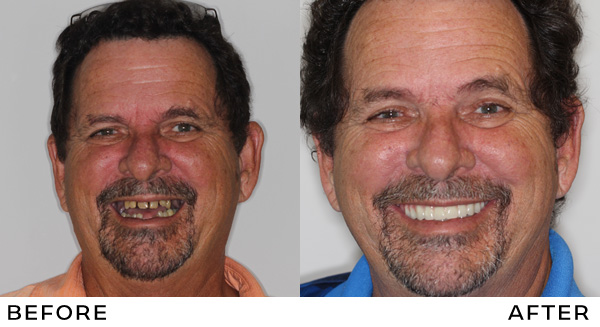 Who Should Consider Dental Implants?
Implants may be right if you have …
poorly fitting or uncomfortable dentures
loose teeth or periodontal disease
Why Are All-on-4® Implants Better than Dentures?
A Secure, Natural Feeling Fit
Your new implants will be securely anchored to your jaw, just like real teeth! They won't slip, come loose or fall out. Never again will you have to worry about your dentures coming out while eating or talking.
The Appearance of Real Teeth
All-on-4® implants look and feel like real teeth. Dentures are plastic looking and can feel fake and awkward in your mouth.
A Better Long Term Value
Dentures may seem less expensive, but they require frequent replacements and updates that will add up over the years. All-on-4® implants rarely need replacing.
Eat the Food You Love
With All-on-4® implants you'll be able to eat anything you like, without worrying about your teeth falling out. With dentures, your forced to avoid certain foods like steak, corn on the cob, and apples.