Dental Implants Make First Class Smiles
Dental implants have become the treatment of choice for patients seeking to replace severely compromised or missing teeth with a healthy, attractive, fully functional smile.
Few concepts in the field of dentistry have had more scientific research or product development associated with them than the emergence of implant treatment protocols. That is because historically, the success rates have been consistently high, the esthetic results can be positively dramatic, and even the most unhealthy smiles can be replaced with pristine new ones.
Treated Patients Report Life Changing Results
Healthy Smiles affect more than just the health of the mouth. Patients report a bounty of restored self-confidence, relief from digestive disorders through ease in proper chewing, and the ultimate preventive relief knowing that oral bacteria is not leading to heart disease.
Some patients abandon plans for plastic surgery, surprised by the youthfulness a new smile can provide. Others find renewed energy for exercise and the key to revamp overall fitness. Dental implants are a lifestyle upgrade.
Dental Implant Procedures Have Been Streamlined
Erase the stories of multiple lengthy visits to the dentist. Dental Implants have become so advanced that most of the critical scientific planning and artistry takes place without the patient. Technologically, dentistry has kept step or even run ahead of medicine. The patient's scan is on the doctor's computer and the ideal placement of the implants is studiously pre-determined. The prosthetic teeth that will connect to the implants are custom designed for each individual patient and then milled by robots in high tech laboratory facilities. The smile is mirror ready when it arrives for patient delivery.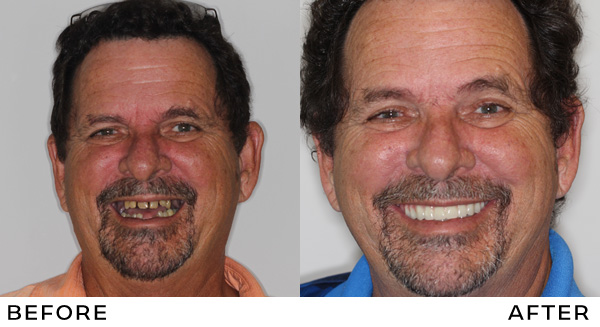 Who Should Consider Dental Implants?
Implants may be right if you have …
poorly fitting or uncomfortable dentures
loose teeth or periodontal disease
Why Are All-on-4® Implants Better than Dentures?
A Secure, Natural Feeling Fit
Your new implants will be securely anchored to your jaw, just like real teeth! They won't slip, come loose or fall out. Never again will you have to worry about your dentures coming out while eating or talking.
The Appearance of Real Teeth
All-on-4® implants look and feel like real teeth. Dentures are plastic looking and can feel fake and awkward in your mouth.
A Better Long Term Value
Dentures may seem less expensive, but they require frequent replacements and updates that will add up over the years. All-on-4® implants rarely need replacing.
Eat the Food You Love
With All-on-4® implants you'll be able to eat anything you like, without worrying about your teeth falling out. With dentures, you are forced to avoid certain foods like steak, corn on the cob, and apples.
Make Your Dream Smile A Reality, With Affordable Financing
0% financing for up to 24 months for those who qualify!
What Should a Dental Implant Patient Expect?
A very thorough clinical examination with comprehensive radiography and 3-D diagnostic impressions, followed by an in depth consultation to determine the patient's needs, explain options and answer questions.
One surgical visit to place the implants (these are replacing the decayed or missing natural roots and will become the anchors for the new smile). Temporary teeth that very closely resemble natural teeth will be placed on the implants to give the patient esthetics and function immediately while the gums are healing and the bone is fusing to the titanium implants. Depending on the number and size of implants placed, some discomfort may occur for several days, but is well managed with the application of ice and mild medication.
In as little as twelve weeks, when the implants have integrated, an impression will be taken to create the model for final teeth.
Depending on the material used to construct the final teeth, delivery can take place two to four weeks after the impression visit.